Back to Plant Medicine Track
Conservation Strategies for Sustainability of the Peyote Gardens: What is the Indigenous Approach?
Dawn D. Davis, M.A.
Saturday, April 22, 2017 • 11:30 AM - 12:00 PM • Jr. Ballroom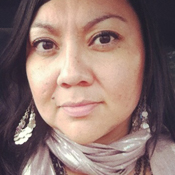 The peyote cactus (Lophophora williamsii Lem. ex Salm-Dyck J.M. Coult.), a revered entheogen used in the Native American Church (NAC), has been considered a plant of conservation concern by members of the NAC since 1976. In 2010, the Natural Resources Conservation Service identified peyote as a plant of cultural concern due to destruction of the Peyote Garden habitat in south Texas. Collaboration between NAC members, Texas landowners, peyotero distributors and other stakeholders, are vital to the sustainability of peyote in its native habitat. Various factors contribute to peyote depletion and habitat destruction however, approaching sustainability from an Indigenous ecological perspective allows for inter-Tribal and community-based conservation, co-management and enactment of sacred ecology.
Dawn D. Davis, M.A., is a tribal person belonging to the membership of the Shoshone-Bannock Tribes of Fort Hall, Idaho. She holds a master's degree from the University of Arizona, and is currently a Ph.D. student in the Water Resources Program at the University of Idaho with an emphasis in Law, Management and Policy. Current research includes sustainability of ethno-significant plants, particularly medicinal plants and first foods, in addition to small-scale food and energy security. Previous research has led her to review Tribal policy through active participation by Tribal members in natural resource management from an Indigenous and community perspective. Dawn is a current National Science Foundation fellow under the Integrated Graduate Education and Traineeship (IGERT) program. In addition, she is a scholar of the Indigenous Program for STEM (ISTEM) research, including collaborative research funding from the Pacific Northwest Alliance. ­