Back to Clinical Research Track
From Taboo to Treatment: The Coming of Age of Psychedelic Medicine
Amanda Feilding
Friday, April 21, 2017 • 2:00 PM - 2:30 PM • East Hall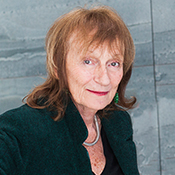 The taboo has cracked; the long-standing socio-political armour that has kept psychedelics out of contemporary medicine is finally weakening. Scientists are making fundamental breakthroughs and journalists are eager to report their successes. There is increased awareness that the combination of psychedelics, brain imaging and modern neuroscience provides a unique and novel microscope to the mind, opening up new pathways to treat intractable mental conditions, which cause immense suffering and cost to society.
In recent years, my collaboration with Dave Nutt and Robin Carhart-Harris has achieved significant milestones, with the first brain imaging study of LSD and our successful pilot study using psilocybin for the treatment of chronic depression. With Jordi Riba we have seen how ayahuasca alkaloids can stimulate the birth and growth of neurons. The momentum is building with each new insight into the mechanisms by which psychedelics generate their effects, and how these effects may have outstanding therapeutic value.
As I had hoped when setting up the Beckley Foundation, the interplay between science and policy has brought about change. However, there is still a long way to go. Psychedelics need to become licensed medications, available to those in need through clinics providing psychedelic-assisted psychotherapy. My aim for the Beckley Foundation is to continue to spearhead a wide range of scientific discoveries, which will lead to the certification and application of these invaluable and ancient compounds. May the buds of change bloom, enabling us to access the healing potential of these potent medicines.
Amanda Feilding is the Founder and Director of the Beckley Foundation. Amanda established the foundation in 1998 to further research into the therapeutic and transformative potential of psychoactive substances forbidden by prohibitionist policies, and has since been called the 'hidden hand behind the renaissance of psychedelic science and drug policy reform.' Through the Scientific Programme, Amanda orchestrates collaborations with leading scientists worldwide, investigating cannabis, psilocybin, LSD, Ayahuasca, DMT and MDMA. These include clinical trials identifying the effects of psychoactive substances on cerebral circulation, brain function, subjective experience, and clinical symptoms. She co-directs the thriving Beckley/Imperial Research Programme with Prof David Nutt.